Remote control light bulbs are one of the best sellers on Wireless Lighting Store.
This blog is is just a quick quide to how you can find them useful.
Easy to install - no electrician needed
Comes in BC standard cap and also ES
Ideal if you want to avoid redecorating
Avoid running new wires to a switching location
So how easy is it to set up and get going?
Easy Installation - No Electrician Needed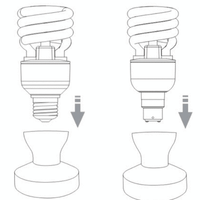 How easy is it to pair the device to the remote?
Step 1 - Put the plub in your light fitting
Step 2 - Turn the light on
Step 3 - Turn the light on and off 4 times
Step 4 - light bulb will start flashing
Step 5 - Press the on button on the remote
Step 6 - Bulb will flicker to confirm pairing
All Done - You now have remote control lighting